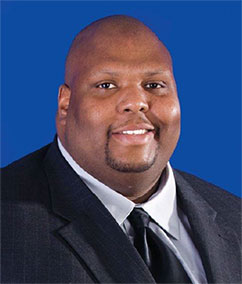 As a father and husband, Lawrence Jackson is a champion for strong communities and safe neighborhoods. He has demonstrated courage and compassion throughout his ten-year career in law enforcement and social work.
As mayor of Riverdale, Larry has established a vision that leaves no one behind. He continues to lead positive change for Riverdale.
Reducing Flooding: Larry has secured a $7.4 million grant to repair flood drainage infrastructure, preserving the value of local homes and the health of Riverdale residents.
Lighting the Way: The Jackson administration has erected scores of new residential street lights to improve public safety and beautify Riverdale neighborhoods.
Tearing down the Granary: The Granary posed a severe safety threat for more than 50 years before Mayor Jackson finally demolished it and opened space for new opportunities.
Improving Fiscal Accountability: The Jackson Administration has opened the budget process to the view of Riverdale residents, ensuring real fiscal accountability.